Broken Key Removal, Repair And Replacement
Get Broken Key Removal Services Immediately When You Call Us
Got a broken key? Don't panic!
The experts at Plano Locksmith Pros are at your service with 24-hour residential locksmith service throughout Plano Texas and nearby communities. Whether a key breaks off in your vehicle or in the front door of your home or office, our local team can safely get it out and make a new one — all for a price that won't cause you any more stress.
Why Hiring A Local Locksmith Makes A Difference
Being a local company means we're not limited in what we can offer and since we know the area well, we can arrive at your location faster than anyone else. This flexibility means you'll only pay for what you need without being pressured to opt for extra services or products that aren't necessary for your situation.
Many of your friends and neighbors in Plano already consider us their go-to source because:
We're available 24 hours a day
We arrive in 30 minutes or less
Our prices are fair and up-front
We're licensed, bonded and insured
Our friendly customer service helps make stressful situations easier
Eliminate Stress With Our Unbelievable Emergency Locksmith Services
Because unexpected surprises like a broken key rarely happen at convenient times, we offer 24-7 emergency locksmith service. If you're in need of broken key removal, repair or replacement, simply give us a call and a local technician will be there within 30 minutes to quickly and safely get the job done.
How We Remove Broken Keys
When a key breaks off in a lock, our experts are trained to determine the best way to remove what's left inside without damaging the lock or scratching nearby surfaces. One of our mobile team members will come prepared with the right equipment and supplies to minimize disruptions to your schedule as much as possible.
We Can Even Repair Broken Keys
Not all broken keys have to be ditched. For instance, some wireless entry devices may just need to be reprogrammed if they're no longer responding. Whether or not a repair can be made will depend on what kind of key it is and where it's damaged. If a key is bent or disfigured it some way, it's best to opt for replacement.
Not only that…
Many people try to remove a stuck key by force and this usually results in damages to the lock. Luckily, we are able to provide excellent lock change services for any type of lock that you have.
Broken Key Replacement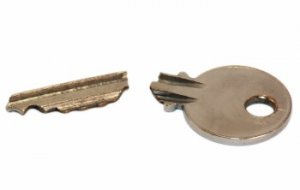 In some cases, broken key repair isn't possible if there is extensive damage to the key or if the key physically broke into two pieces. Our residential and commercial locksmiths can quickly replace both traditional and high-tech keys.
Broken Key FAQs
What should I do if a key breaks off in the lock?
Try using lubricant if there is a long enough piece sticking out and gently easing it out. If there's not anything to grab or it's still not budging, call us.
Does getting a broken key replaced mean that I need a lock change?
Broken key replacement simply means replacing the damaged key with one that's exactly the same. A lock change (replacing the lock and related hardware) is only necessary if the lock was somehow damaged when the key broke, which is rarely the case.
How can I minimize the risk of a key breaking?
Avoid using keys for unintended purposes, i.e., opening packages when a knife isn't handy or popping open a soda can, and be mindful of keys that may be left in your pockets.
To sum up:
For 24-hour locksmith service in Plano Texas that won't stretch your budget, choose Plano Locksmith Pros. Contact us today for more information on our broken key removal and repair services or request immediate attention from one of our local locksmiths.
Something Fun!
Be sure to check out the latest news and events going on in Historic Downtown Plano! There's music, film, shopping and so much more.
Broken Key Removal

https://txplanolocksmith.com/residential/broken-key-removal/

4.0

/5 based upon

7

reviews.