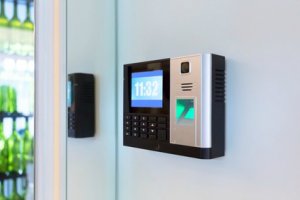 If safety and security are high priorities to you, do not mess around with faulty access control systems.
Instead, we advised you to call us as soon as possible. We are Plano Locksmith Pros and we provide unbeatable local commercial locksmith services. After all, if your security systems are not functioning properly, your commercial investments, belongings, equipment and lives are at stake.
In addition to fast and reliable repair services for your existing systems, our expert technicians will also be happy to discuss with you security updates and the installation of brand new, state-of-the-art access control systems.
Why Can't I just Fix It Myself?
There is a chance you could possibly perform some simple cleaning tasks that could make your commercial access system locks work again. However, you are always at risk of a break-in even if you have never had one in all the years you have been in business. Furthermore, you could risk injury, vandalism or theft if your system is outdated or old and does not function at its best.
Not only that, if your system is not working correctly, you may have employees that need to access certain areas but are not able to. We will come quickly and re-program your system so that you can get back to business as usual.
We Provide Top-Notch Customer Service
If you are looking to expand your business to Plano, TX you should consider allowing us to install your access controls systems for your new property. Whether you have 50 employees or 5,000, we can help you choose from a variety of systems types that will work best for your business.
3 Main Types Of Access Control System Options:
Biometric locks
Pincode entry
Key card access
The Plano Locksmith Pros experts provide top-notch, compassionate emergency locksmith service to locals. You do not necessarily have to live here to receive service. However, we want to make sure we can tend to your needs as quickly as possible.
Here are a few more things you can count on when you call us:
Prompt response to your calls in 30 minutes or less
Service by licensed, bonded and insured professionals
Availability 24-hours a day, 7 days a week
Complete maintenance, repair, replacement and installation provided
Up-front and fair pricing with absolutely NO surprises charges
Go ahead, make the "smart choice"
You cannot go wrong when choosing us to help you with access control repair or installation. If you have any questions along the way when we come to inspect and maintain your system, feel free to ask.
Contact Us Anytime
Never be afraid to contact our professional locksmith team. We even take calls in the middle of the night and on weekends. After all, we realize that access control systems and other types of locks do not just break during the day or during the week. Get in control of your business today!
Access Control Systems

https://txplanolocksmith.com/commercial/access-control-systems/

4.0

/5 based upon

24

reviews.