Quick Car Key Replacement Services On The Go
You're not the only one who has ever lost a car key.
According to a survey conducted on 1,000 American adults before 2015, one in five has lost personal belongings every week. Among the items not found, lost car keys were at top of the list. This can be frustrating, so you might be relieved to know that you can find speedy, reliable car key replacement services right here in Plano Texas!
Basically…
With Plano Locksmith Pros nearby, you have no need to worry. We are the area's top experts who offer you a variety of automotive locksmith services including fast replacement of lost or stolen or broken car keys. We offer you support for just about any make and model of vehicle, including both foreign and domestic models.
Here Is You Can Benefit From Using Our Services
Not all companies have the kind of advanced tools and equipment we have to rekey, replace or repair your lock mechanisms, but we do! We have the ability to help you reenter your car even if that means making you a new laser cut key on the spot.
Our well-trained locksmith team provides exemplary customer service, plus…
We provide 24-hour assistance all year long
Someone on our team shows up within 30 minutes from the time you call for help
Our prices are fair and straightforward – no surprises!
Each locksmith is licensed, bonded and insured and has 5+ years of experience
We offer broken key extraction and replacement services
---
Common Lock and Key Problems That We Can Fix For You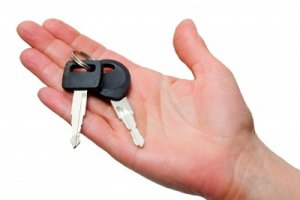 If you notice that it is becoming more and more difficult to turn your key in the lock or ignition, we highly recommend keeping some lock lubricant handy. This is a quick and easy solution that you can take care of on your own. If you do need our assistance, we are ready to help in any situation.
In addition to unbelievably fast car key replacement services, we also will examine other common causes for why your car door is not locking or unlocking properly. Listed below are other common issues we resolve, and how we do it.
A faulty car fob – In this case, the fob battery is fine. However, the fob might not be sending a signal the way it should. We will help you reprogram it. Otherwise, we will replace it.
A blown fuse – This you might even be able to figure out how to do yourself. However, you might not have the time. Therefore, if one door does not open and the others do, this could be the problem.
Dirty keyholes – This often causes you to not be able to turn the key and open the lock. You might be able to lubricate the keyhole yourself. However, sometimes dirt and grime is pushed deep into the locking mechanisms. Therefore, it might need extensive maintenance that we can easily provide.
Faulty wires – This often is the case within the ignition switch or in other areas of the locking mechanism. We will either repair the problem or use replacement parts to make it work like new.
Broken keys – We can quickly replace a car key that is broken. Our specialty locksmiths can also help you extract broken parts of keys from an automobile lock.
Broken transponder keys – In this scenario, the problem usually is faulty computer chip programming within the key. We will help you repair or replace the key you have, and you will be able to enter your car and start it again.
To sum up:
Plano Locksmith Pros are ready and waiting for when you need fast and reliable emergency locksmith services. Please contact us immediately if you need help. We also will arrange an appointment if you want to upgrade your vehicle's locking systems.
Car Key Replacement

https://txplanolocksmith.com/automotive/car-key-replacement/

4.3

/5 based upon

14

reviews.